The Duquesne Incline, Pittsburgh, Pennsylvania:
Observation Deck
With View of Downtown Pttsburgh's Beautiful Golden Triangle,
Ranked Second Most Beautiful View in America
by USA Weekend Magazine !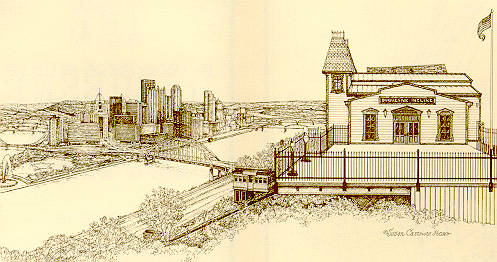 Free Incline Parking !
In 1987, contributions from major foundations, as well as the general public, made it possible to replace the ancient tar-paper roof over the cable room and shop with a sturdy concrete slab. This provides a large, handsome Observation Deck offering the most spectacular view of Pittsburgh's Central Business District, affectionately known as "The Golden Triangle;" much of the rest of the city, as well as some nearby suburban areas, can also be viewed from this summit. Two binocular telescopes, for public use on the Observation Deck, assist with the view of the city and environs.

In addition, a small wing was added to house administrative offices and an enlarged gift shop, as well as a small extension of the Upper Station's museum gallery. Income from the sale of souvenirs has been most important in providing funds for the Incline's capital-improvement program.
The new Observation Deck, museum gallery wing, and administrative offices made possible by these major contributors
(1985 to 1987)
Bell of Pennsylvania(now, Bell Atlantic)********Christopher Passodelus
Alfred P. Brooks****************************W.I. Patterson Charitable Fund
Howard Heinz Endowment********************Pittsburgh Foundation
Vira I. Heinz Endowment*********************Rockwell International
The Hillman Foundation**********************South Hills Republican Club
Mary Hillman Jennings Fund******************U.S. Steel Corporation(now, USX Corporation)
Laurel Foundation***************************VFW Post 5111(Mount Washington Heights)
Mellon Bank, N.A.****************Society for the Preservation of the Duquesne Heights Incline
And by Public Subscription
Return to History Cover Page

Return to Early History of The Duquesne Incline

Return to Public Transportation

Return to Directions/Free Parking
Return to