Society for the Preservation of
The Duquesne Heights Incline
Pittsburgh, Pennsylvania
Dedicated to the preservation of that which cannot be replaced.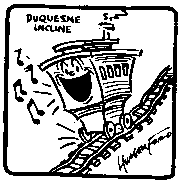 Help preserve a unique form of rapid transit. Become a member !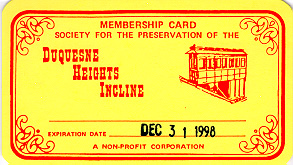 The Society for the Preservation of the Duquesne Heights Incline was formed in 1964 by the Duquesne Heights/Mount Washington neighborhood group that had rescued, repaired, and reopened the Incline in 1963. The purpose was to continue to restore and rehabilitate the cars, equipment, and both stations, and to establish the entire operation as a reliable commuter facility and a popular visitor attraction.

Since 1966, the Society has enjoyed a 501(c)(3) charitable tax-exempt status, granted by the U.S. Internal Revenue Service. Therefore, all funds derived from Incline fares collected, membership fees, donations, and gift shop sales go directly into the operation.

The Duquesne Incline does not now, nor has it ever, received any direct government subsidy for operations, from the City of Pittsburgh, County of Allegheny, Commonwealth of Pennsylvania, or the Federal Government; nor, does it receive any funds from the recently-established Allegheny Regional Asset District. The Port Authority of Allegheny County, only, reimburses the Incline for PAT patrons who use passes, tickets, tokens, or transfers to ride The Duquesne Incline. Occasional governmental grants, received from the Commonwealth of Pennsylvania, are earmarked for capital projects(such as structure rehabilitation) only, not for operational support.
Operation of The Duquesne Incline relies entirely on Incline fares collected, membership fees, donations, and gift shop sales !
The Society welcomes to membership everyone interested in this historic restoration project. All membership fees and donations are tax-deductible. A quarterly financial report and newsletter apprises the members of all activities and financial status.
Annual Membership
Sponsoring Member - $ 10.00
Sustaining Member - $ 25.00
Patron - $ 100.00
Benefactor - $ 1,000.00

Click on the following link for a membership application. Print-out the membership application, and mail it with your check or money order to the address given on the application:
Membership Application
Or
With your name and address, mail your check or money order to:
Attn: Membership Department
The Duquesne Incline
1220 Grandview Avenue
Pittsburgh, PA 15211
U.S.A.

Return to History of The Duquesne Incline
Return to